Southview Industrial Park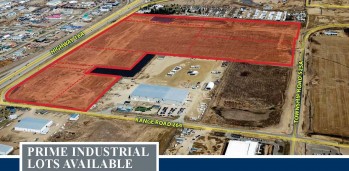 Southview Industrial Park is Panattoni Development Company's latest large industrial subdivision project situated just west of the City of Edmonton in Acheson, Alberta. The development is fully serviced and zoned for various industrial uses, including outside storage, with lots available for sale, lease or build-to-suit (Brochure).
PRICING:
-Market
NET ACREAGE:
-Approximately 36.63 acres available for development.
-Lot sizes start at 4.8 acres.
ZONING:
-BI, which can accommodate a variety of industrial uses including outside storage.
LOT SERVICES:
-Municipal water and sanitary, storm water management, power, natural gas, and telecommunications.
SITE CONDITIONS:
-Stripped of major overburden and rough graded.
TAX ASSESSMENT:
-Parkland County has the lowest overall non-residential tax assessment rate in the Greater Edmonton Region.