Featured Project: Airport Road, Brampton ON (Canadian Tire)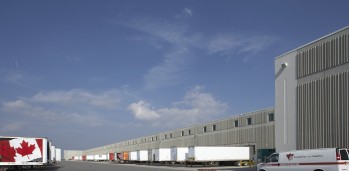 Panattoni's Airport Road project established several milestones:
Largest Spec industrial project to be constructed in Canada – 1,100,000 sq. ft.

First "Flow Through" design spec industrial building constructed in Canada.

First dual award winner of NAIOP's Rex Awards: Industrial Lease of the Year and Industrial Development of the Year.

Lowest "CAP rate" ever achieved in Canada for an industrial investment sale.
Panattoni acquired a 50 acre industrial site in Brampton Ontario, because it recognized a unique opportunity to create a state-of-the-art industrial facility that had never been built in Canada's largest market; a facility that had proven to be successful in major U.S. markets. The project: a big "bomber" with flow-through shipping, a high ratio of truck doors and ample yard area for trailer parking. Panattoni's foresight and confidence in its market research was rewarded with a long term lease of the entire project of 1,100,000 sq. ft. to a national tenant, Canadian Tire, prior to the completion of construction.